(Chessmen for Collectors)
Victor Keats' book will be of immense value to established collectors and would-be collectors alike.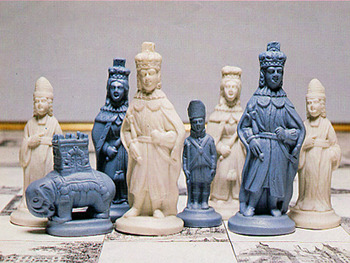 Rare Castleford Jasperware chessmen depicting King George III and Queen Charlotte, early nineteenth century
Besides the inspiration chess has given to writers and artists throughout the world, chess sets reflect, through the work of craftsmen, changing styles in art and design, topical controversies, battles, propaganda and mythology. Beyond its practical use, every chess set represents a historical record and work of art.